Demineralization Plant
Products

Current:

Demineralisation Plant
Demineralization Plant | Demineralization Unit in Pune | Mumbai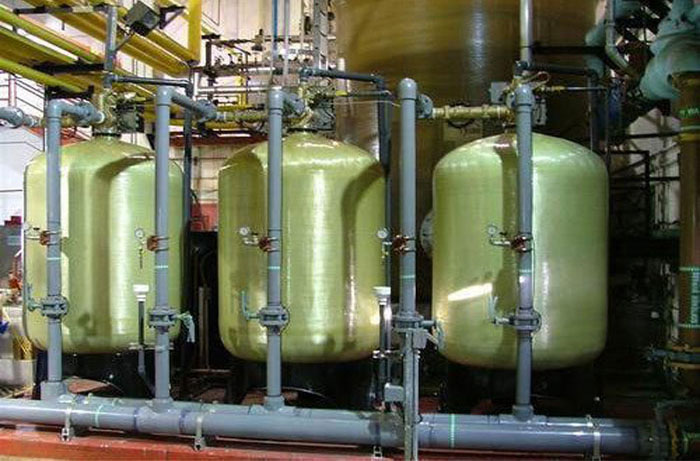 We are giving world class DemineraliZation Plant that is generally utilized for making water drinkable and free from dangerous contaminants. In this, crude water is passed by means of two little polystyrene dab filled beds. While the cations are traded with hydrogen particles in first bed, the anions are traded with hydroxyl particles, in the second one. Here, particle trade is a quick and reversible process in which debasement particles introduce in the water are supplanted by particles discharged by a particle trade gum.
The polluting influence particles are taken up by the tar, which must be occasionally recovered to reestablish it to the first ionic frame. A demineralization water framework produces mineral free water by working on the standards of particle trade, degasification and cleaning. Demineralized water framework finds wide application in the field of steam, power, process, and cooling.
Specifications
Material
MS
Automatic Grade
Automatic, Semi-Automatic, Manual
Installation Service:
Yes
Get the best water and choose best Demineralization Plant
Normal water is considered 'hard' when it has extreme levels of magnesium and calcium mineral demolished in it. Demineralization Plant in Pune is used for removal of total hardness dissolved in water. The Demineralization Plant manufacturer in Pune offers Series of water softeners at an affordable, efficient and highly efficient way to make softner your water.
The unique design Demineralization Unit in Pune and DM Plant in Pune guarantees the utmost utilization of the efficient area, reliable space and linear velocity across the resin bed which provides efficient contact time between water and resin bed generate soft water and prevent any precipitation and scale formation on the surface of heat exchanges and any process equipment where water is being used for further application. DM Plant in Pune and Demineralization Plant manufacturer in Pune is suggested in the market for cost efficiency and reliable performance.
Demineralization by Demineralization Plant in Mumbai is the procedure of removing mineral salts from water by using the ion exchange procedure. It is possible to use Demineralization Unit in Mumbai, with most natural water sources and produce water of a higher quality than conventional distillation.
What is a Demineralization Plant in Pune?
A Demineralization Unit in Pune includes two pressure vessels containing cation and anion exchange resins. Various types of ion exchange resins can be used for both the cation and the anion procedure, based on the type of toxins in water and what the ultimate water is used for.
The last water from this technique by the Demineralization Unit in Mumbai and Demineralization Plant manufacturer in Pune comprises basically of hydrogen ions and hydroxide ions, which is the chemical composition of pure water.
What is demineralized water by DM Unit in Pune and DM Plant in Pune used for?
The high-purity water from a Demineralization Unit in Mumbai and DM Unit in Pune is generally used for high-pressure furnace feed, clean water for computer chip manufacture, pharmaceutical process water, micro-electronics and any procedure where high-purity water is a need.
How do you replenish a Demineralization Plant in Pune?
The Demineralization Unit in Pune and Demineralization Plant manufacturer in Mumbai replenishes instantly according to conductivity.
The regenerant for the cation column is hydrochloric acidity (sulphuric acidity can be used as an alternative) and acidic soft drinks for the anion column.
What is mixed-bed demineralization?
Polishing mixed beds at Demineralization Plant in Mumbai and DM Unit in Mumbai come after the cation and anion standard vessels and, as for possessing, they are there to polish the water. The bed is an intimate merge of cation and anion resins. At a pre-set time according, these resins are not regenerated to conductivity and are not managed to exhaustion but are regenerated on time and volume.
How do I size a DM Plant in Mumbai?
For the sizing of a DM Unit in Mumbai, a good in-depth water research is normally needed which gives the guide to complete anions and complete cations and any potential natural foulants. The last needed quality water requirements are needed, as well as flow rate and water used per day. In some conditions, Demineralization Plant manufacturer in Mumbai can "budget size" a Demineralization Plant in Mumbai by knowledge of the complete demolished shades and water utilization rates. This is not suggested, however, for precise costing and for an assured outlet water quality.
Quality has always been the signature of DM Plant in Mumbai and DM Unit in Pune since the day of its beginning. The DM Plant in Mumbai is dedicated to providing efficient quality requirements in the selection of Demineralization Unit in Mumbai and DM Unit in Mumbai have made the top level producer and provider of Demineralization Plant manufacturer in Mumbai for commercial reasons. Only excellent and the finest quality raw material and elements obtained from reliable providers are used in the production procedure.